Whitethorn turns 40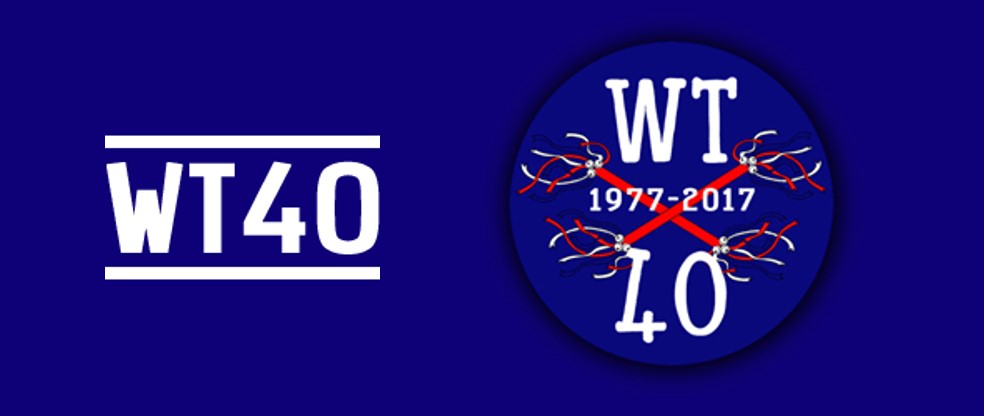 ---
Posted on September 23, 2017
---
To celebrate our 40th Anniversary, we held a grand day of dance in Tring, Hertfordshire.
A lot of our old (and newer!) friends came to dance with us on the day, and much fun was had by all. We danced all day, gorged ourselves on cake and bubbly, then danced the night away to The Geckoes. On the day we also premiered our new anniversary dance, entitled Birthday Cake!
For a little bit about the history of the team, read Janice's article below, which was featured in Unicorn Magazine and Dancing On!
40 Years Young – Whitethorn's Big Birthday
---
For those of you who are not old enough to remember punk rock, Virginia Wade winning Wimbledon and the Queen celebrating 25 years of reigning, then you were not around when Whitethorn Morris were launched in September 1977. How long ago that now seems. No world wide web, laptops, mobile phones, Facebook, Instagram or Twitter. The Whitethorn 'bagman' didn't have to update the side's Twitter feed prior to a gig. No, he or she had to find a map, make photocopies and post or hand them to the dancers and musicians. Yes, no sat-navs either - many bookings started late as someone usually got lost en-route! Mind you, with my current sat-nav that is still possible, but that's a story for another day!
So in the autumn of 1977, Whitethorn Morris made their entry into the wonderful world of Morris from the London suburb of Wealdstone in Middlesex. Dancing in north west style and clad in Laura Ashley smoky floral dresses with black Gamba shoes (our wooden clogs came along in the very early 80s) but don't let the floral frocks fool you - Whitethorn were energetic, ballsy and very much precursors of the 'girl power' that the Spice Girls thought they invented. Two years on in 1979, our kit was upgraded to a more dynamic blue cotton dress with a red pinafore and a blue mill girl's cap. Over the years we have been mistaken for nurses, nuns and cheese demonstrators - no, please don't ask!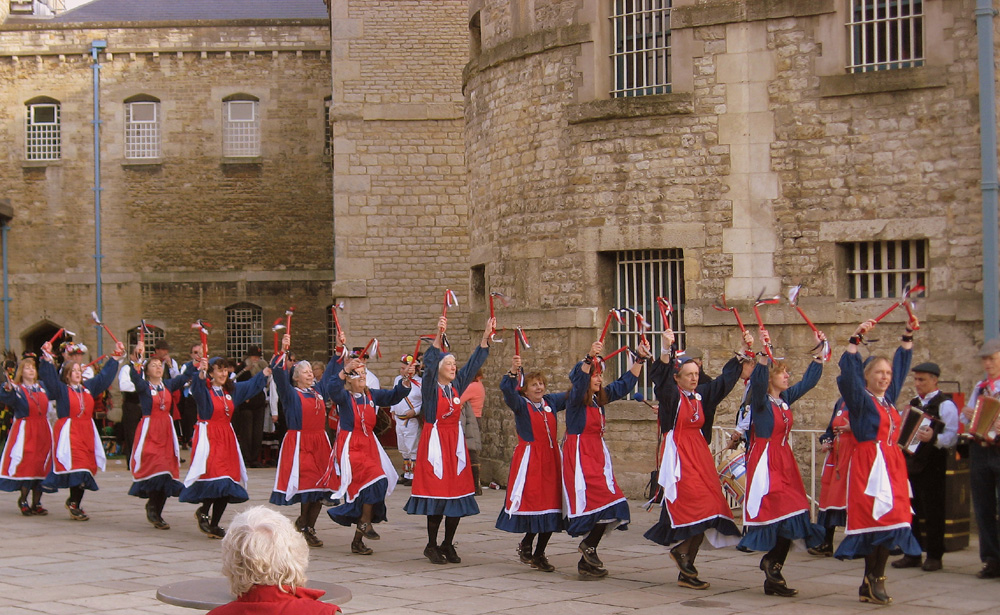 Back in the early 1980s, Whitethorn had enough dancers and musicians to fulfil two different bookings with two teams on many occasions. We've danced at Sidmouth (once busking and once officially), Whitby, Rochester, Chippenham, Swanage, Wimborne, Sheringham and in London (we were often to be found in Covent Garden on Sunday afternoon entertaining the tourists). In recent years, we have danced in Brittany at a Europeade event and in Prague at a folklore gathering.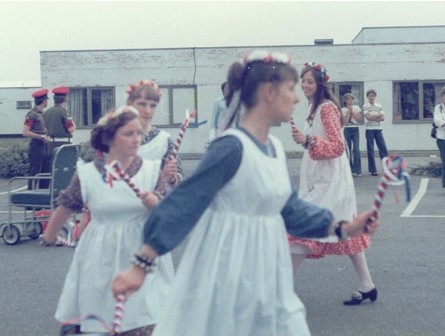 Two members remain from the original starting line-up, although only one of them is still dancing, the other plays a lethal crowbar and triangle in the band. Quite a few members have been around for many years, fitting in dancing alongside building careers, getting married in some cases and having babies, most of whom donned the mini Whitethorn kits that were passed down the line, until they discovered it was completely uncool. However, we do have the pictures in the team's scrapbooks…
Our team come from far and wide to practice, which is still held in Wealdstone in a scout hut. Sue travels from Newport Pagnell and Jenny, our Foreman, comes from Oxfordshire. Some still live near Wealdstone, but we also reside in Bucks and Herts. We have two members in Bristol, who still join us for dancing out whenever they can. We would love to have more dancers join us and any new recruit is a marvellous bonus.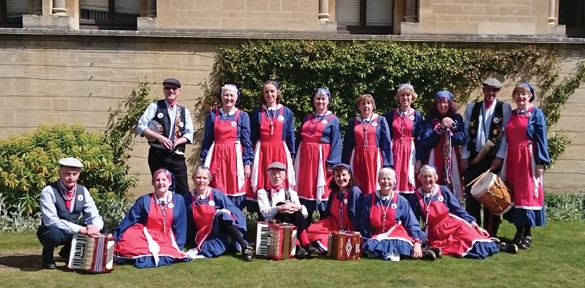 So 40 years on, it is time to celebrate friendship, music, dancing and years of shared memories, fun, cakes, tea, coffees, wine, cocktails and prosecco and this we are going to do on 23rd September in Tring in Hertfordshire. We are going to have 40 cakes, bubbly, beers, lovely food, music, dancing and a ceilidh with The Geckoes. We are hoping that many teams will come and join us and we know that many of our ex members will also be coming along to party. To find out more please email jandent@viaint.com or secretary@whitethornmorris.com or have a look at our website, Facebook or Twitter. I did say, times have changed! But the virtual world is no substitute for getting your kit on and coming along to say 'Happy Birthday' to Whitethorn who are #FabAtForty.
Janice Dent
Secretary, Whitethorn Morris
---